A play for three actors:
one female and two males
CONTACT INFORMATION
DOUG WARWICK - TORONTO, CANADA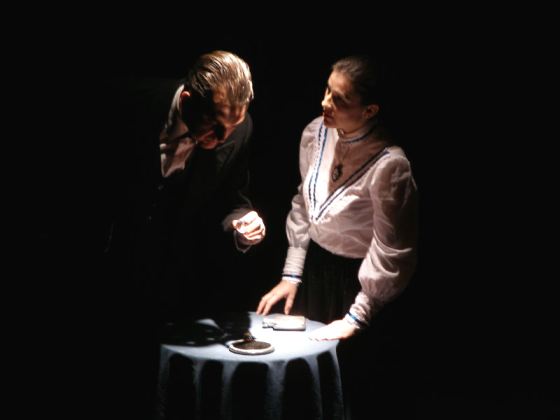 January 4 - February 2, 2013
EL PASO, TEXAS, USA
Directed by Frieda Voeks
| | |
| --- | --- |
| Dereck Wyatt in the role of Sherlock Holmes | Dereck's self portrait in the role |
(Left Panel, Left to right) Christina Pietrowski, Lindsey Taylor, Dereck Hyatt, Esteban (Steve) Hernandez
(Right Panel, left to right), ABC-7 host Stephanie Valle interviewing Christina Pietrowski and Steve Hernandez.
Sherlock Holmes makes a close examination of the "Star of Delhi" diamond (Texas actor
Dereck Wyatt in the role).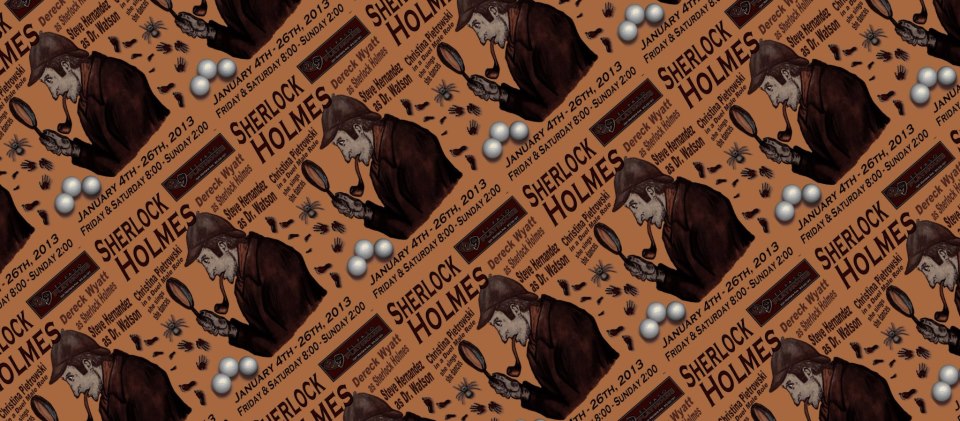 Mrs. Hudson's wallpaper. ( She's a big fan of course! Holmes pays a premium on the rental of his 221b Baker Street rooms, for services rendered. )
Left, Esteban (Steve) Hernandez as Dr. Watson. Right, Christina Pietrowski, as Wiggins / Alfie.
Congratulations, Freida, Vanesa, Dereck, Steve, Christina, Kevin, JoMae, Alex and Alex, Lindsey, crew and all those associated with El Paso Playhouse who worked on Sherlock Holmes!
The game is afoot!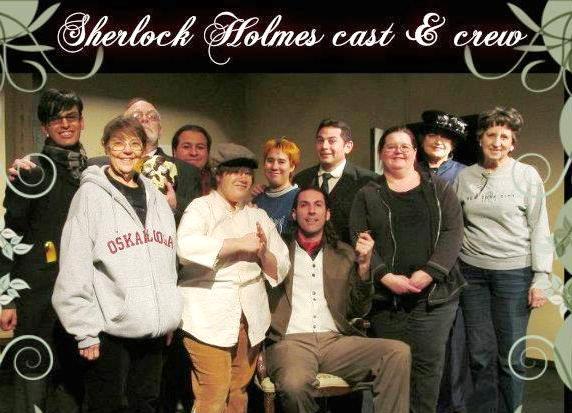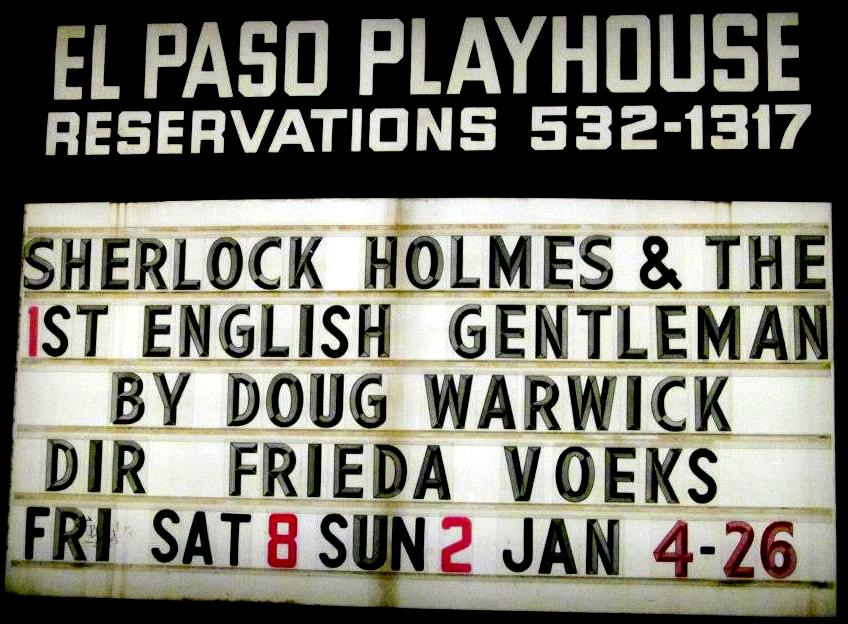 May 6 - 28, 2011
KALAMUNDA, WEST AUSTRALIA
Directed by Tim Edwards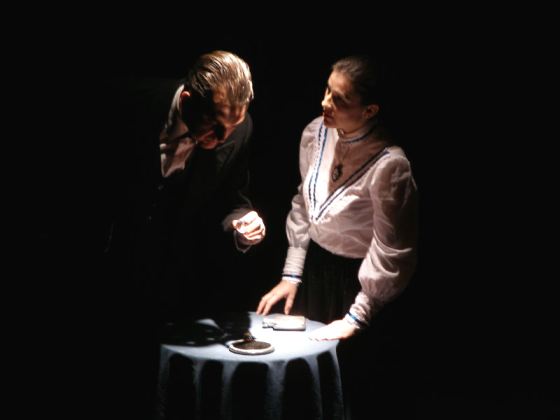 Chris Thomas as Sherlock Holmes with Carmen Miles as Lady Adamson
Photo by Gary Barnes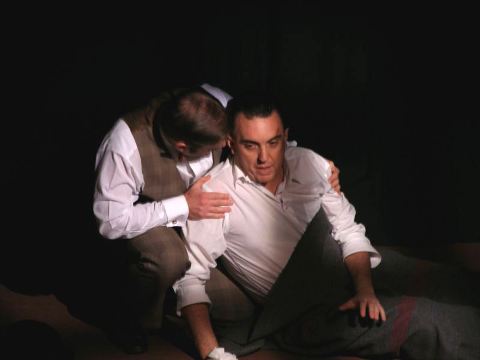 John Bevan as Dr. Watson with Chris Thomas
Photo by Gary Barnes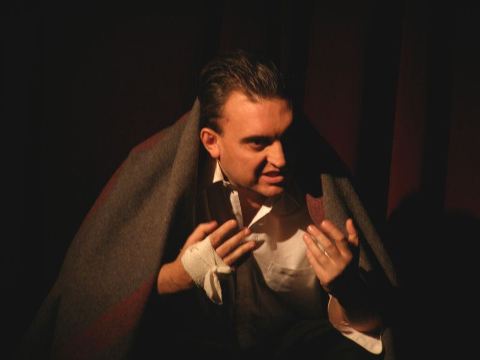 Chris Thomas
Photo by Gary Barnes
| | |
| --- | --- |
| From left to right: John Bevan, Chris Thomas, and Carmen Miles. | Tim Edwards, Director |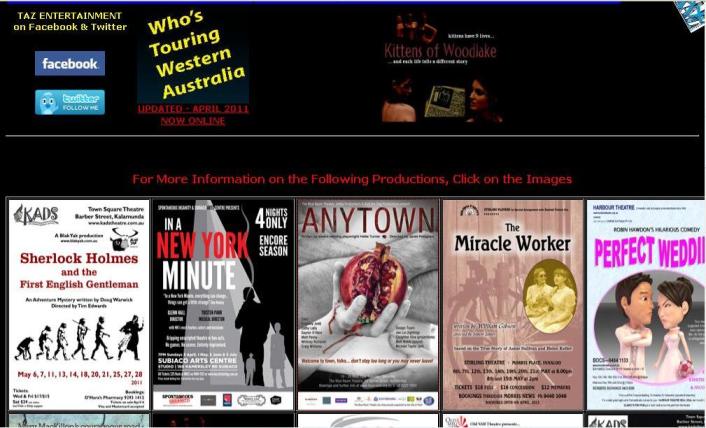 Congratulations, Tim, Chris, John, Carmen, crew and organizational and creative team! The game is afoot!
"This Sherlock Holmes play, penned by a keen Canadian fan, appears designed for touring with its cast of three playing multiple characters...Chris Thomas in the title role, superbly captured the English gentleman, with his strange mix of addictions and intelligence...Some properties, supplied from the author, took the audience's breath away, while the main setting - Holmes' drawing room was expertly finished...Ultimately this was a show created with affection that played nicely and warmed hearts on cold evenings."
Kimberley Shaw - Stage Whispers, Australia 2011
The many faces of the actors portraying Sherlock Holmes from past productions of Sherlock Holmes & the First English Gentleman:.
The gentlemen, left to right, Dereck Wyatt from Texas, USA and Chris Thomas
from Perth, Australia.
The gentlemen, left to right, Nick Cumming from Kitchener, Canada, Jonathan Parrish from Idaho, USA, and Michael Hanrahan from Toronto, Canada.
The many faces of the actors portraying Doctor Watson, from past productions of Sherlock Holmes & the First English Gentleman:.
The gentlemen, left to right, Esteban (Steven) Hernandez from Texas, USA, and John Bevan from West Australia.
The gentlemen, left to right, Peter Treadwell from Toronto, Canada, Benjamin Moote from Idaho, USA and Frank Quinlan from Toronto, Canada.
TORONTO FRINGE FESTIVAL 2008
"Writer/director Doug Warwick's mystery is worthy of Doyle's hero...
Kate Lacey - Eye Weekly, Toronto, June 30, 2008.
THREE STARS
"...Warwick's plot has enough twists and turns to create a mystery fit for
Sherlock Holmes. "
Kate Lacey - Eye Weekly, Toronto, June 30, 2008.
THREE STARS
"...it's solid entertainment." The Panic Manual July 11, 2008.
"Peter Treadwell, who played Dr. Watson and other characters, was terrific.
Not that Nick Cumming and Tina Sterling weren't....there were some terrific moments, some very funny lines and scenes."
Sam Mooney, Mooney on Theatre July 8, 2008.
"...the show had some wonderful fun moments, including a song-and-dance number
led by Dr. Watson (Pete Treadwell). The actors seemed comfortable on stage
and Treadwell did a wonderful job of switching between several characters
without missing a beat. It was also the first time I've seen anything portraying
Sherlock Holmes on stage. I enjoyed the translation from the character in a book
to the character in a play."
Megan Mooney - Blogto.com July 2008.
"The play that puts a fictional crime-fighter, Sherlock Holmes, on the case of the Piltdown Man, the 20th century's first great scientific hoax."
Metro News - Toronto, July 2008
"...a plethora of humorous moments." Lauren Hatchard, Mooney on Theatre, Toronto, July 10, 2008
"I found all three performers to be extremely committed to telling the story and making whatever multiple characters they played as distinct as possible. I loved the musical interlude in the show! It was campy and fun and the performers looked like they were enjoying themselves."
Daina Valiulis, Mondo Magazine, July 2008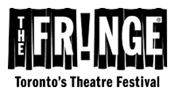 THE ROBERT GILL THEATRE
214 COLLEGE STREET (3RD FLOOR)
BIOS
PETER TREADWELL (ACTOR - WATSON / ALFIE)
Pete loves the theatre and is thrilled to have the opportunity to perform. Most recently he was seen onstage in the Georgian Theatre Festival's production of The Drawer Boy. He has also performed at The Royal Alexandra Theatre, The Thousand Islands Playhouse, the 2005 Toronto Fringe Festival and The Shaw Festival. After the Fringe, Pete is getting married.
NICHOLAS CUMMING (ACTOR - SHERLOCK HOLMES)
(/BA Drama and English / U. of Waterloo/) is a founding company member of the Multicultural Theatre Space (2004). He has appeared in /Exit Strategy, Yes or No!/, /Seasons of Immigration/, /Legion of Memory I + II/, /Me Here/Me Happy/, /Motio X Industria/, and /Three Legged Horse/ (MT Space); Tennessee Williams' /I Can't Imagine Tomorrow/ (Poor Tom Prod.); /Asphalt Jungle Shorts I, II & III /(Flush Ink Prod.); and /Mimetic Flesh/Mimetic Hotel/, /A Midsummer Night's Dream/ and /Spring Awakening/ with UW Drama. He directed and wrote /The Children's Crusade/ for the UPStart Fringe 2007, and /HE/ for UPStart 2004. He is a poet and playwright currently working on several plays with Pat the Dog, KW's professional playwrights' development centre.
TINA STERLING (ACTOR - LADY ADAMSON & OTHERS)
A graduate of U of T's drama program, Tina has most recently performed in Nuit Blanche 2007, TV_Dot_Television, Aluvion Theatre's Caligula as Caesonia, and in the short films: 3Ways to Do it, Piggy's in a Blanket, and Lulaliens . Over the past few years, Tina has performed as the 'Queen' in Shakespeare's Cymbeline (U of T), 'Joan' from Cause Celebre (Bloor Village Players), 'Violet' in Farther West (U of T), 'Anna' in Vassa Zhelevnova (U of T), to name a few. Tina is very excited to be back on stage and to be a part of this new addition to the Holmes legacy.
DOUG WARWICK (PLAYWRIGHT/ PRODUCER/ DIRECTOR/ SPECIALTY PROPS/ LYRICS / MUSIC DESIGN) Doug currently works as a Certified General Accountant and as an itinerant medieval armour educator for grade four school kids in the GTA. His jazz arrangements have been played on CBC radio. He played saxophone with Garfield French opposite Rush, at the Montreal Forum in the 80's. His very short play, Murder By Intermission was a runner up in the Atlantis Playmakers SAS Playfest (2002) USA.
CHELSEA MAYNE (ASSISTANT DIRECTOR / STAGE MANAGER)
Chelsea Mayne is a native of Toronto and has spent several years volunteering for the Fringe before making her working debut in this show. A graduate of the Etobicoke School of the Arts, Chelsea is entering her third year in the University College Drama Program at the University of Toronto. She has trained at Stratford and the pre-college Randolph Academy, and has completed numerous performance workshops in and around Toronto. A long-time Sherlock Holmes aficionado, she would like to thank Doug for the opportunity to participate in this Holmesian adventure. Thanks also Nick, Peter, Tina, and all my UCDP friends! And love to my family for always being SO supportive. Cheers, and enjoy the show!
CHARLES HUSTON (ASSISTANT STAGE MANAGER / LIGHTING DESIGN)
Charles is currently a 3rd year theatre student in the University College Drama Program, University of Toronto. Before this, he studied in Ottawa as an electrical engineer. He enjoys acting, writing, directing and technical work.
PRODUCTION RIGHTS
Please email the playwright for details. Discounts for schools, and amateur productions.
PRODUCTION HISTORY
2000 St. Vlad's Theatre, Toronto, Canada (Seventeen Steps)
2002 Northwest Nazarene University's Little Theatre, Idaho, USA,
(Nampa Charter School)
2008 Robert Gill Theatre, ( Toronto Fringe Festival 2008 / Seventeen Steps
2011 Kalamunda, West Australia (Blakyak and Kalamunda Dramatic Society)
2012 El Paso, Texas, USA ( El Paso Playhouse )
SYNOPSIS
The play is based on the stern facts, as Inspector Lestrade of Scotland Yard would say. An accidental discovery in 1908 of a supposed prehistoric "missing link" between man and the apes, the Piltdown Man, proved to be a piece of fiction and one of the greatest scientific hoaxes ever devised. The discovery was fully debunked in 1953 using modern analytical science and methods that Sherlock Holmes himself would envy. The perpetrator of the fraud, who is still unknown, has by now, taken the secret to their own grave.
There is a death. The question is not how, but when; not which hour, but which millennium. The ancient Piltdown Man skull has been discovered in England. Is England really home to the world's oldest man, the missing link? So asks, Dr. Watson who acts as Holmes friend, colleague, and narrator in this play.
We meet the accidental discoverer, Sir Charles Adamson, who has been appointed director of the British Museum, after the death of his father, the late Lord Adamson, former director. Sir Charles's sister, Lady Adamson employs Sherlock Holmes to recover the Piltdown Man specimens after an apparent theft by 'Creationists' during a chaotic lecture given by Sir Charles. He then becomes mysteriously ill. Lady Adamson now takes charge of the entire British Museum. But why does she arrange for herself and Sherlock Holmes to view a fabulous diamond, in a secluded room at the Museum?
We learn that she shares the date of her birthday with that of a reformed thief, Alfie Trotwood. Alfie tells us that it was Sherlock himself who generously found him a job at the Museum, the best job he ever had. And when Sherlock Holmes observes a painting of the late Lord Adamson, he notes a remarkable resemblance between the Lord and the comical character, the reformed thief.
Later we see Alfie accused by Lady Adamson, of stealing a small gem from the Museum's collection. Has Alfie returned to his old criminal ways, or is there another plot afoot? Questions about the Piltdown Man's authenticity arise.
Prior to this, Holmes and Watson investigated the circumstances of the murder of Alfie's aunt, in a run down Whitechapel shop. It so happens that this rag and bone shop also sells archeological fakes, some of them coated with 'Van Dyke Brown' paint, which curiously is similar to the colour of the famous Piltdown Man fossil specimens. Another thread of plot relates to Alfie bringing the 'case of the missing Van Dyke Brown paint tin', to Holmes' attention. Apparently the Whitechapel shop was burgled. Watson considers the case trivial in the extreme. But to Sherlock Holmes, these are 'deep waters'.
There is another death. Sherlock Holmes younger brother died in a tragedy at age seventeen. Holmes confesses to his trusted companion, Watson, that he and his brother experimented with narcotics. The conveyor of their drug supply was none other than an adjunct professor of mathematics, Professor Moriarty. Sherlock struggles with his brother's death. It was he who introduced cocaine to his younger brother. He confesses to Watson, that he seeks revenge upon Moriarty. Is this the reason for Holmes' return to his old drug addiction, a vice so powerful that it apparently lands Sherlock in prison? The priceless Star of Delhi diamond, mentioned before, is discovered in Sherlock's pocket. Sherlock is found raving mad on the steps of the British Museum, by the London police. He lingers near death, in prison, while visited by Dr. Watson and Lady Adamson.
A deadly confrontation ensues between a mysterious man and Lady Adamson, in the morgue where lies the body of Sherlock Holmes. We learn that Moriarty had a daughter, who he gave up at birth, after he was thrown out of his teaching post at his university. It was the family of Sherlock Holmes who ensured that Moriarty was disgraced and blamed for the tragic death of Holmes' younger brother. Was this the reason for Moriarty's descent into criminality and his obsession with the destruction of Sherlock Holmes? Here in the morgue we learn that Lady Adamson was not the daughter of Lord Adamson. What is her connection to the family of Moriarty? In a moment given to herself, Lady Adamson tells us,
"The famous detective of this tale, is rapidly reaching the conclusion of his final case. He'll meet the same fate as the Piltdown Man. A dead end in the experiment of life. After all, only the fittest survive, through natural selection. Or don't you agree?"
Yet, as a song from this play tells us, 'One came back to us, it must be, Mr. Sherlock Holmes.' It is Lady Adamson herself, who tragically dies at the point of her own sword, concealed in an umbrella. The play ends with Sherlock Holmes inviting Professor Moriarty into his chambers, 'for the final discussion of those questions, which lie between us.'
REVIEW FROM 2000
Paula Citron - The Globe And Mail, March 15, 2000
"The play has been running for two weeks and word-of-mouth has made it a near sell-out...While the play has tremendous potential...his characterizations, from the detective and Dr. Watson down to the smaller roles, do ring with truth. The company should also be congratulated for turning a bland theatre space into a rather lovely Edwardian theatre via some judicious paint and paneling.....Michael Hanrahan has a field day as Holmes, particularly in the famous detective's love of disguises. Insufferably arrogant, yet with a melancholy air that befits a heroin addict, Hanrahan manages to infuse the famous sleuth with a three-dimensional, charismatic personality."
OTHER NOTICES
Iris Turcott - Canadian Stage
"...clever and quite charming."
AWARDS
Doug Warwick's MURDER BY INTERMISSION was a runner-up in the Atlantis Playmakers SAS Playfest (2002).
BIO
Doug Warwick has worked in many different fields: musician, band leader, composer/arranger, apprentice optician, labourer, driver, public school teacher, and currently as an accountant (CGA). He has also invented a snow sled which is steerable and has been tested on four ski hills, without injury, glad to say. Doug's jazz compositions were recorded by the Canadian Broadcasting Corporation (CBC). He played the venerable Montreal Forum with rocker, Garfield French, and had a stint with Zarabanda in Dublin, Ireland. Doug's nine piece band, Rhythm & Reeds played the Toronto scene for several years. His written work has appeared in The Globe And Mail, Ryerson's NightViews, and the North Oakville News. ( See the other page for info on his full scale musical, 'The Flying Avro Arrow' .) Doug has a B.Mus., B. Ed. and a CGA designation having attended McMaster, Western, U. of T., Ryerson, Mohawk, Seneca, and York University in Ontario, Canada.
GENESIS OF THE PLAY
Inspired by Tchaikovsky's 4th Symphony, 2nd movement, Doug started work on a set of lyrics. Having established the mood, the next piece of the puzzle was the subject. Doug recalled a visual memory from his childhood - that of a diagram of a prehistoric man in a dictionary, and coming across the picturesque term, "Piltdown Man". Coincidently, it turns out that Conan Doyle lived only about eight miles from Barkhome Manor, where the gravel pit discovery site was located. Doyle was also interested in geology, archaeology and was an avid collector of fossils. Remember also, he wrote The Lost World. Perfect. The Piltdown Man story seemed tailor made for another Sherlock Holmes tale. The next step was to re-read the entire original Sherlock Holmes tales, enjoy the Basil Rathbone/Nigel Bruce, Jeremy Brett and other versions of the character in film and print form, and devise suitable characters that fit the mood and subject. After studying a myriad of pictures on the subject, making original casts of representations of the Piltdown specimens, recreation of the skull, a bust of a Victorian representation of a prehistoric man, and the various stage devices and props necessary, readings and workshops, and redecorating the entire theatre, the scene was set for the first production in 2000, in Toronto, Canada.
ORIGINAL CAST AND CREW (2000)
Cast: Michael Flint, Michael Hanrahan, Sean Mulcahy, Michael Posthumus, Frank Quinlan, Karina Rammell, Catherine Vaneri.
Direction - Anne Butler, Lighting Design and Lights - Kevin White, Set and redecoration plan of St. Vlad's - Peter Thorman, Stage Management - Anne Dixon, Costumes - Marni Collins, Poster -Julia Howard, Elaine Ryan - Publicity. Crew: Frank Taylor, Yanya, Andra Bradish, Kim Nichols, April Crawford, Bill Tkachuk, Julie Rush, Roman Brzozowski, Gord Webb, and many, many more who helped paint St. Vlad's, top to bottom . (Contact me if I've missed you.)
ACKNOWLEDGEMENTS
Frederic Dorr Steele 1873 - 1944 (Artist for Sherlock Holmes portrait above).
Elaine Ryan (Publicist)
Jason Cordice (Web designer, Poster Designer)
...and special mention to the original lighting designer from the St. Vlad's Toronto show in 2000, Kevin White. Seen in the lower left of this picture, Big Ben in London. Ten minutes past two? Only Sherlock Holmes would know!.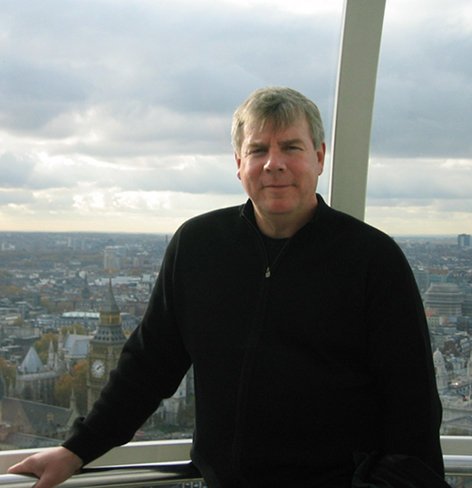 And finally, the cake eating casts. Below, the original Toronto, Canada cast slicing up 'Sherlock's cake', complete with magnifying glass on the left side.
The El Paso Playhouse 'Sherlock's cake' . Or is it a birthday, or two in Texas USA ?
LINKS
http://www.pbs.org/wgbh/masterpiece
http://www.clarku.edu/~piltdown/pp_map.html
http://en.wikipedia.org/wiki/Piltdown_Man
http://home.tiac.net/~cri_a/piltdown/piltdown.html
http://vl-theatre.com/list4.shtml
http://www.playscripts.com/findaplay
http://www.stageplays.com/writers.htm
http://www.atlantisplaymakers.com/sasplayfest.html
http://www.torontoaerospacemuseum.com/
http://www.kaap.purpleglen.com/
http://www.freewebs.com/arrowairplane/