Listen to "JUNE'S TUNE"
CLICK HERE ! for free MP3
Thanks to the great Greg Kolchinsky Recording Engineer
soundpal@rogers.com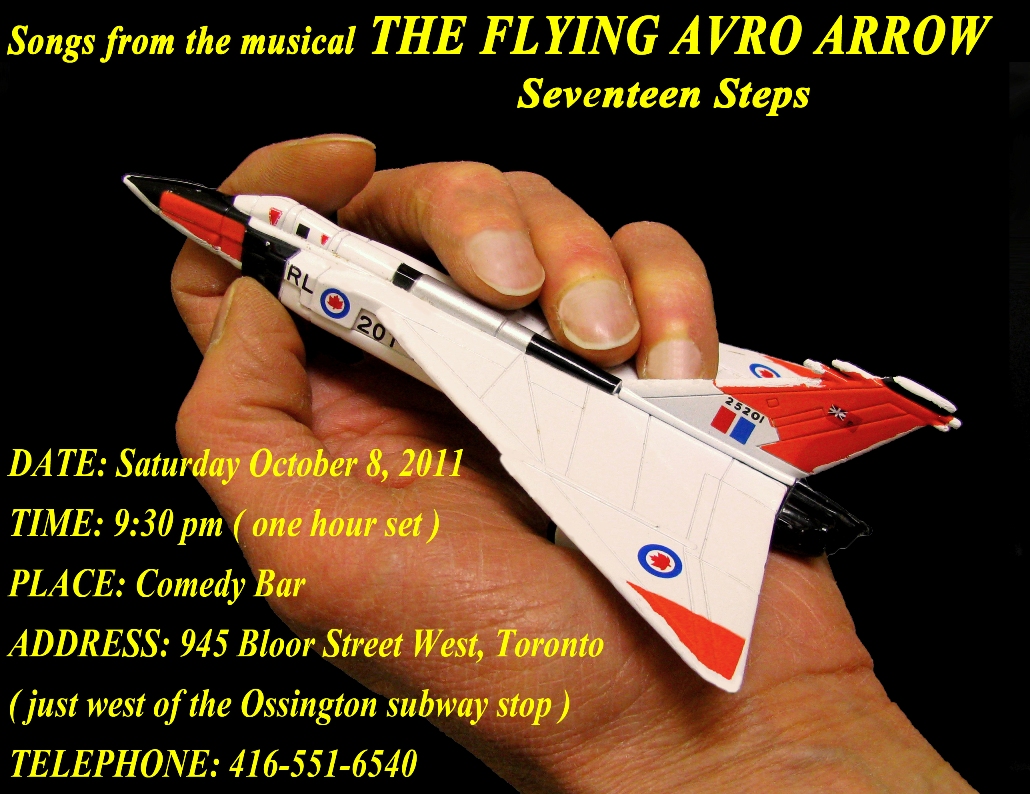 A.V. CLUB . TORONTO. http://www.avclub.com/toronto/events/flying-avro-arrow-musical-comedy,265123/
"It's fun to imagine an alternate Canada in which the CF-105 Arrow (more commonly, the Avro Arrow) wasn't scrapped: one in which aerospace is Canada's No. 1 industry, and moms are skypooling their kids to hockey practice in consumer-grade Avro Arrows. Unfortunately, we'll never know such a world. But The Flying Avro Arrow Musical Comedy imagines an alternative past in which William Shatner was a security guard at Avro Aircraft and Dief The Chief sings and dances. Blending historical nostalgia, sci-fi, and Soviet spy intrigue, the musical comedy gives cartoony life to one of the most controversial incidents in Canadian aeronautics history. Well, probably it's the most controversial incident in Canadian aeronautics history. Really it's just the incident in Canadian aeronautics industry. Anyway, it was a hit at Fringe in 2010. And now it's back!"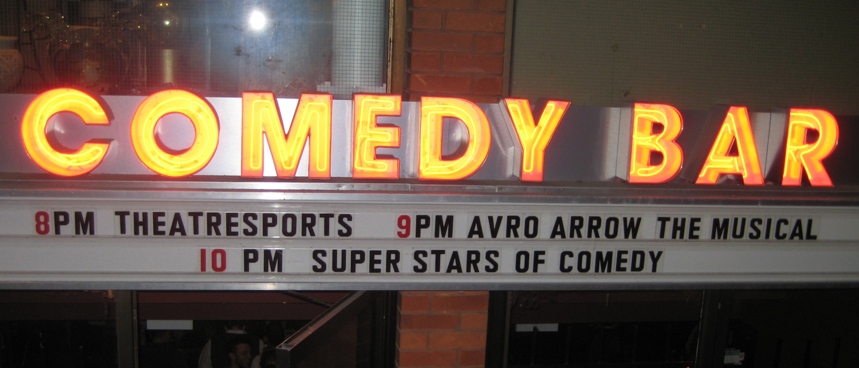 Comedy Bar Cast:
Steve Flett, Leeman Kessler, Danielle Capretti, Franz Robinow, Peter Jensen, Marisa Crockett, Lauren Lazare, Roselyn Kelad-Sedra, Bob Legare and David Abramowitz with production by Kathy Adachi, Anne MacMillan and Doug Warwick with thanks to Gary at the Comedy Bar.
- PAST PRODUCTIONS -
THE FLYING
AVRO ARROW
MUSICAL COMEDY
Directed by Anne MacMillan
Words & Music By Doug Warwick
CAST OF ELEVEN !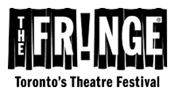 July 1 (Canada Day ) to July 11, 2010
| | | |
| --- | --- | --- |
| DAY | DATE | TIME |
| THURSDAY | 1 | 8:00 PM |
| FRIDAY | 2 | 8:00 PM |
| SATURDAY | 3 | 2:00 PM |
| SUNDAY | 4 | 2:00 PM |
| MONDAY | 5 | OFF |
| TUESDAY | 6 | 8:00 PM |
| WEDNESDAY | 7 | 8:00 PM |
| THURSDAY | 8 | 8:00 PM |
| FRIDAY | 9 | 8:00 PM |
| SATURDAY | 10 | 2:00 PM |
| SUNDAY | 11 | 2:00 PM |
United Steelworkers Hall
25 Cecil Street
(1 block south of College, 2.5 blocks east of Spadina Ave.)
West of University TTC College Stn.
FREE PARKING!!
(to the rear - access from the lane east of the building)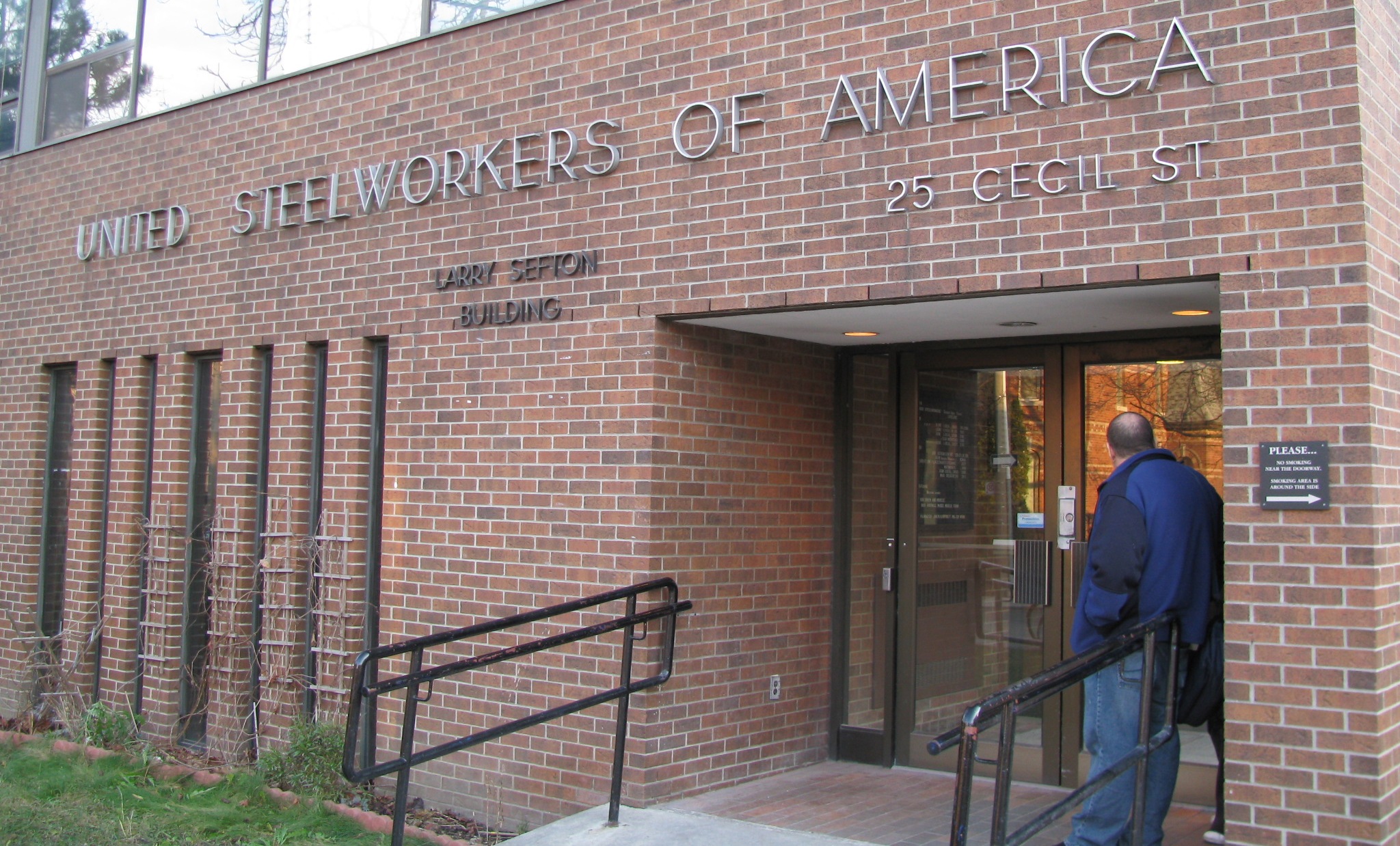 There was the movie, "The Avro Arrow" with Dan Aykroyd, the play, "The Legend of the Avro Arrow", the book, "There Never Was An Arrow". Now in a Toronto Fringe musical comedy, the incredible Canadian Avro Arrow flies again!
The Canadian Avro Arrow supersonic interceptor jet was scrapped in 1959 during the cold war era. Meet John Diefenbaker (Prime Minister of Canada), Ike Eisenhower (President of the U.S.A.) Nikita Khrushchev (Premier of the former Soviet Union), William Shatner (who later stars in Star Trek as "Captain Kirk" with Jimmy Doohan as "Scottie") and "Olga" - a Russian agent.
| | | |
| --- | --- | --- |
| "SHATNER" | "OLGA" | "SCOTTIE" |
| | |
| --- | --- |
| "THE ARROW" | "THE SOVIET BEAR" |
| | |
| --- | --- |
| "SOVIET SPUTNIK SATELLITE" | "CANADIAN ALOUETTE" |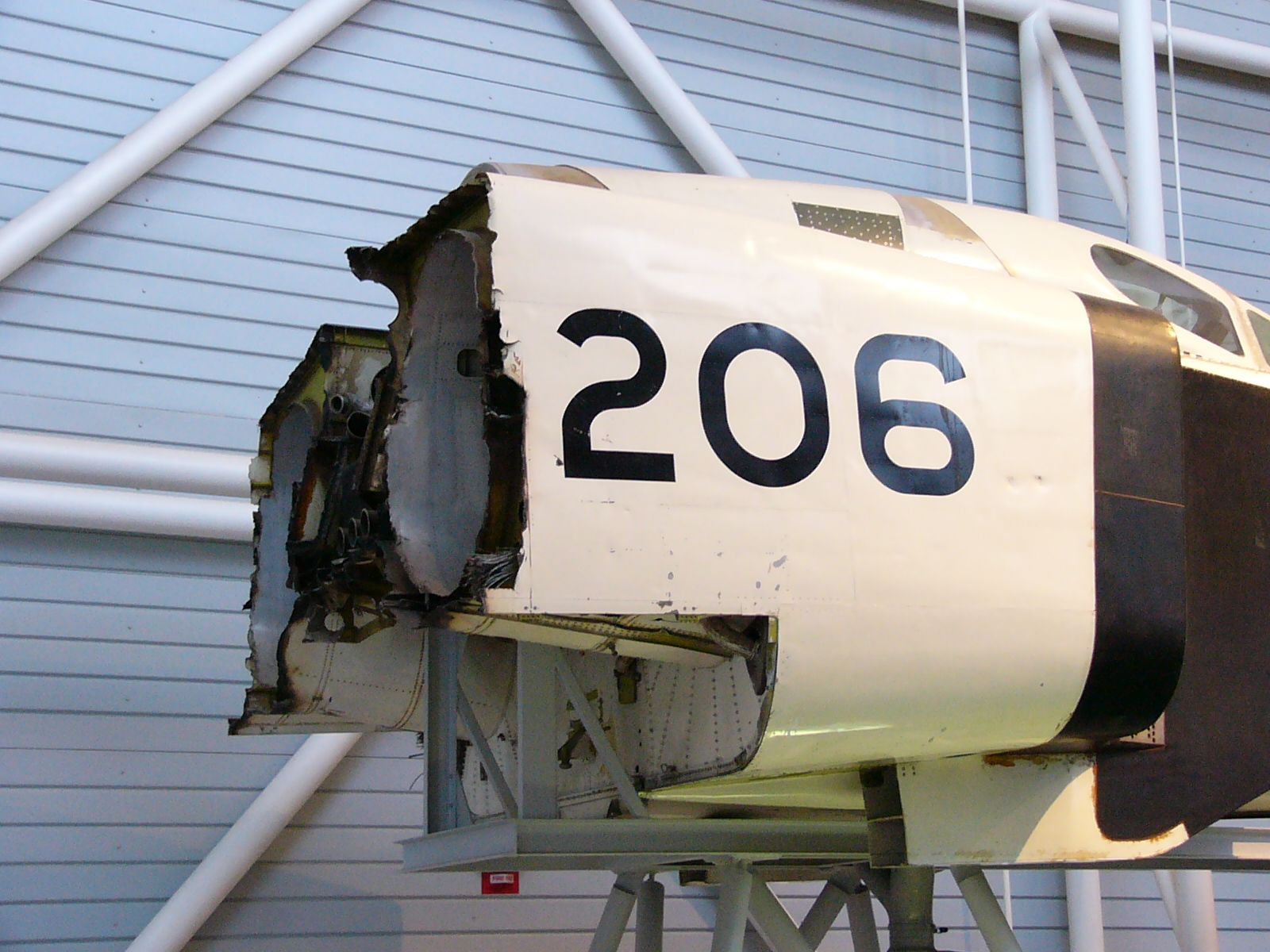 "THE LAST REMAINS"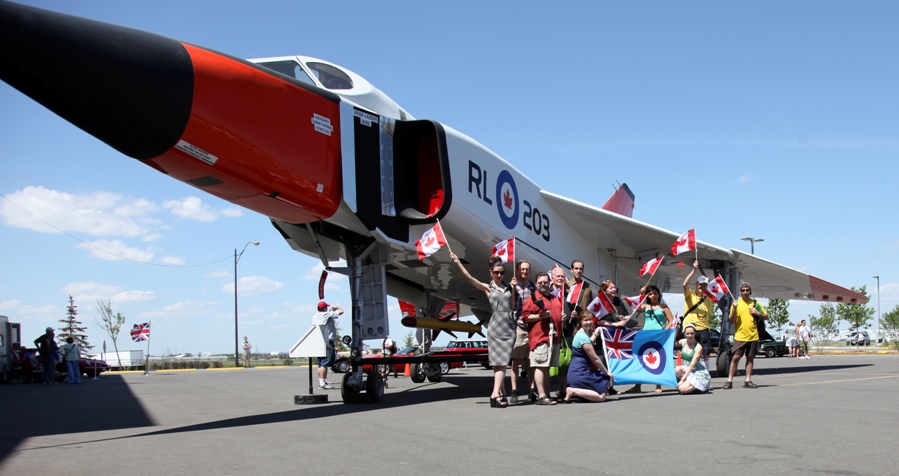 CAST & CREW WITH THE AVRO ARROW REPLICA AT
DOWNSVIEW AIRPORT - PHOTO BY DAVID FITZPATRICK
CAST & CREW WITH THE AVRO ARROW REPLICA
- PHOTO BY DAVID FITZPATRICK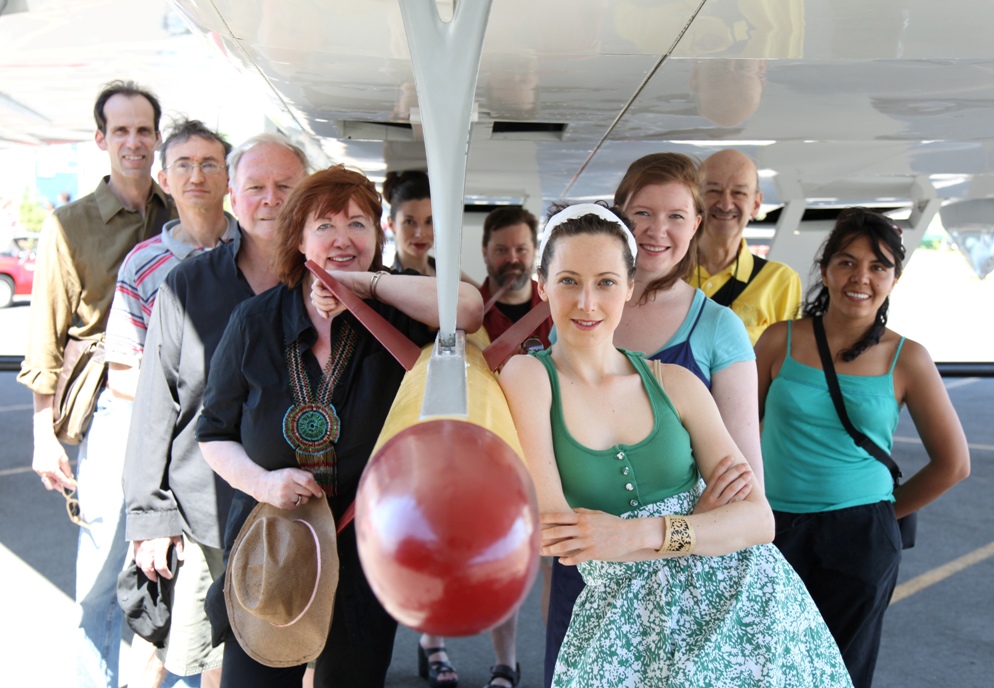 FROM L. TO R. JEFF ORCHARD, DOUG WARWICK,
FRANK ROBINOW, ANNIE MACMILLAN, DANIELLE CAPRETTI,
STEVE FLETT, ANNA FINN, MERRYN RENSHAW,
DAVID ABRAMOWITZ, SUSAN PALMA
UNDER THE ARROW REPLICA - PHOTO BY DAVID FITZPATRICK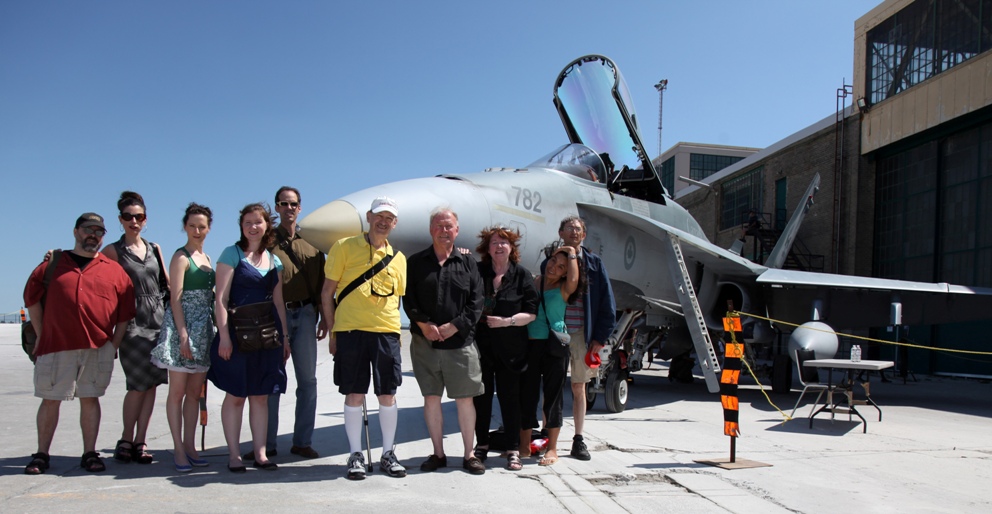 CAST, DIRECTOR AND CREW WITH A ROYAL CANADIAN AIR FORCE F-18 HORNET (U.S.A. TECHNOLOGY)
- PHOTO BY DAVID FITZPATRICK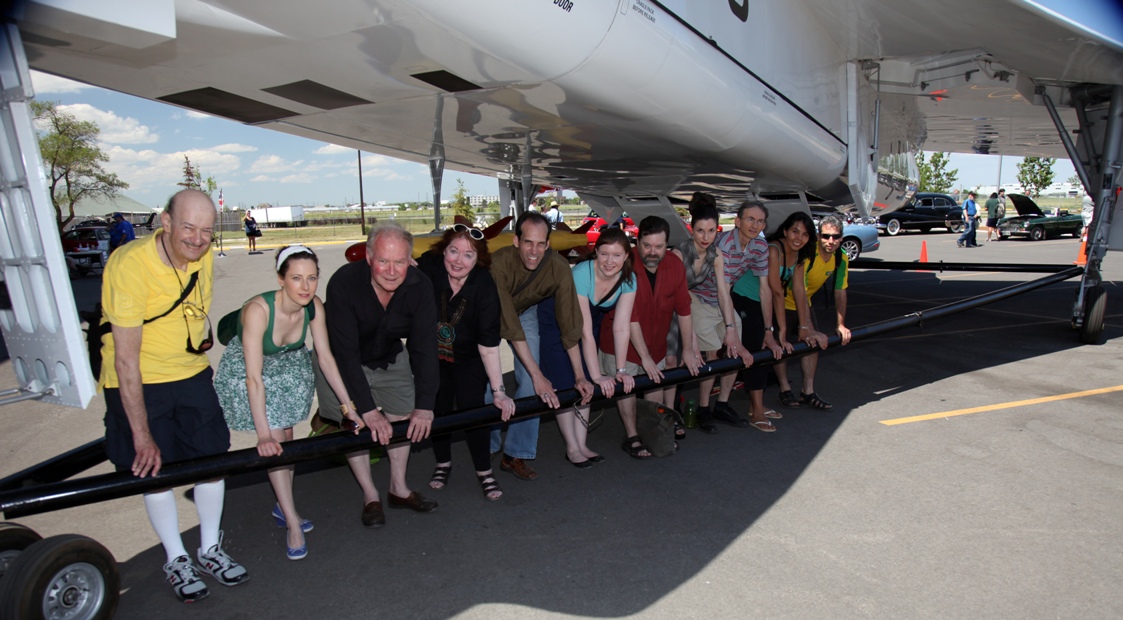 CAST, DIRECTOR & CREW UNDER THE AVRO ARROW REPLICA
PHOTO BY DAVID FITZPATRICK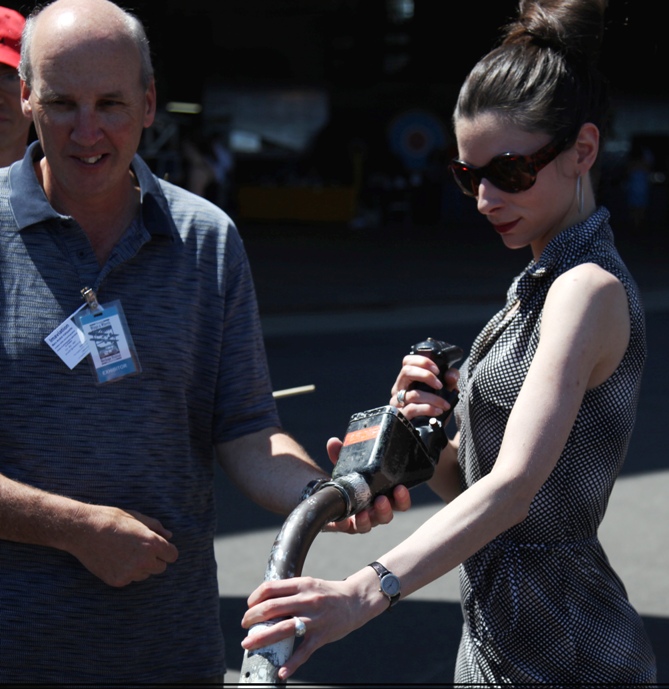 CELEBRATED AVRO EXPERT AND AUTHOR MARC-ANDRE VALIQUETTE SHOWING ACTOR DANIELLE CAPRETTI
ARROW #203 PILOT STICK, PHOTO BY DAVID FITZPATRICK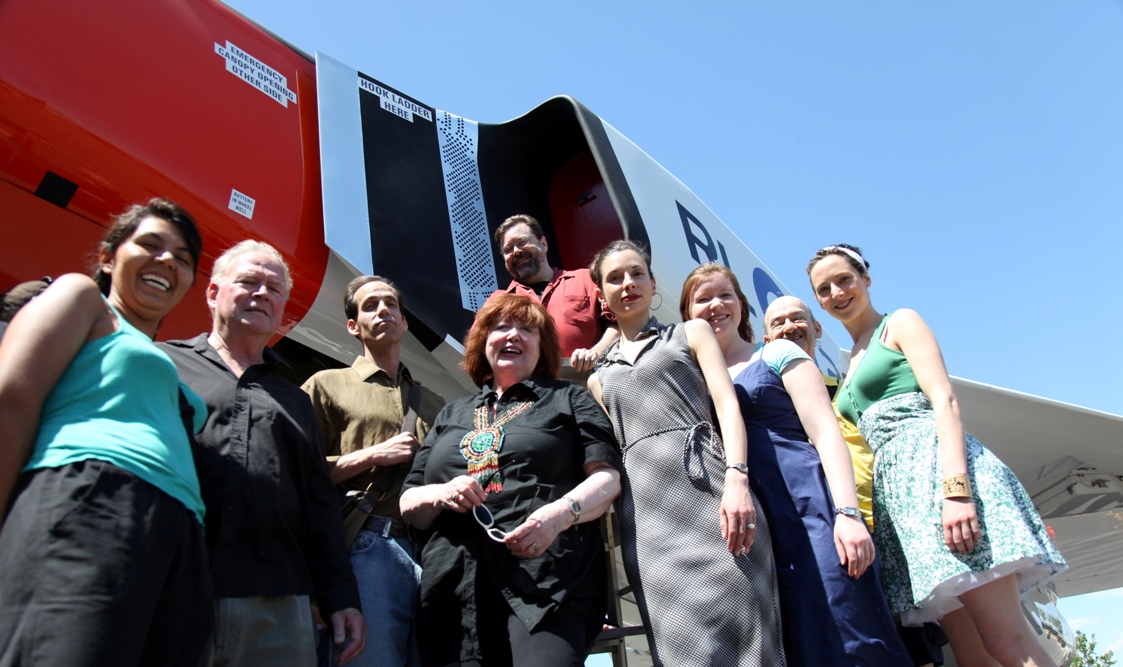 CAST, DIRECTOR & CREW BESIDE THE ENGINE INTAKE
PHOTO BY DAVID FITZPATRICK
Information:
Doug Warwick,
Toronto, Canada
By Sam Mooney - Mooney On Theatre
"I realized quite a few times during the performance that I had a huge grin plastered on my face. Of course, because it's a musical, there's also singing and dancing. It's all broad strokes, the characters are caricatures although kudos to Stephen Flett who played Diefenbaker and resisted shaking. The props were minimal but creative. Cocktail strainers as microphones was brilliant. Woven in to the puns, jokes, singing and dancing was the story of the Avro Arrow. A story that more Canadians should know."
By Rea McNamara - Eye Magazine
"Writer Doug Warwick will deservedly receive praise from aviation enthusiasts for accurately recapturing the political intrigue surrounding the Avro Arrow, that advanced 1950s jet interceptor killed by Diefenbaker's Conservative government amid Cold War paranoia and American pressure. The one-liners zing with Canadiana humour, and the fanciful Trekkie character additions of Spock, Bill Shatner and Scotty (back story: former WW2 pilot James "Scotty" Doohan was cast in an Arrow promotional) provides an accessible entry point into a not-so-known past...."
By Sam Mooney - Mooney On Theatre
"Is it too early to tell you about a must-see show at the Toronto Fringe Festival in the summer of 2010? You have to see The Flying Avro Arrow – A Musical at United Steel Workers of America Hall .....This musical was performed as a staged reading during Week Two of The New Ideas Festival at Alumnae Theatre. Before the reading, I had trouble imagining how anyone could write a musical about the Avro Arrow and make it work. Playwright Doug Warwick figured it out. It was terrific – I really enjoyed it. The music worked, and the show was funny. You can enjoy the show without knowing the Avro Arrow story, but it's an important part of Canadian history and something we should all know.
By Tina McCulloch
Doug Warwick's very funny (and informative!) musical The Flying Avro Arrow is set in the late 1950's to early 1960's. Director Nonnie Griffin (who also played a small role) led a spirited cast through a fast-paced, hour-long romp that introduced us to such characters as Canadian Prime Minister John Diefenbaker (Stephen Flett), Soviet leader Nikita Khrushchev (Franz Robinow), U.S. President Ike Eisenhower (Leeman Kessler), and Olga the sexy Russian spy (Danielle Capretti). David Abramowitz played Morris Lax, a scrap metal dealer from Hamilton, who figured in the Arrow's demise, and genuine Russian (actually Ukrainian) Kyrylo Gubarev played a Russian pilot.
First Public Reading: Alumnae Theatre New Ideas Festival March 20, 2010
Reading Personnel:
David Abramowitz, Danielle Capretti, Stephen Flett, Nonnie Griffin, Kyrylo Gubarev, Leeman Kessler, Frank Robinow, Jason Winther and thanks to Cleopatra Williams, Naomi Priddle Hunter, and the fearless New Ideas Production Team Producers: Shelley Cahill, Brenda Darling, Danielle Landry, Pat McCarthy
Many thanks to:
John Humphrey (Steelworkers Hall), Paula Forst (Toronto Fringe), Nonnie Griffin (New Ideas), Alumnae Theatre New Ideas Festival 2010, Cynthia Aspherger (Ryerson Drama Program), David Straus, Peter C. Newman (Canadian author), James Floyd (Avro), Lou Wise (Producer of the film - Supersonic Sentinel), Frank Harvey (Avro & President of the Aerospace Heritage Foundation of Canada), Margaret Zagrosh, (Avro wife), Bill Tkachuk (who saw the Arrow fly over Bolton), Ken Jewett (who heard Dief speak off the cuff), Clinton Bomphrey (who wrote The Legend of the Avro Arrow), Crawford Gordon III (whose father Crawford Gordon II fired 14,500 people at Avro after Dief's cancellation of the Avro and Orenda Engine program), Infotech Computers Inc. (Darroll, Jason and Pops), Chalkers Pub (Lisa Particelli and Girls Nite Out www.chalkerspub.com), Ronit Rubinstein, David Occhipinti, Analusia Almada, Robert Bellissimo, Antonia Antonopoulos, Jeff Locker, Albert Masters, Pat Broms (Props), Paul Cabot (CASM), Rob Cohen (Arrow Watch & Model Campaign), Gullons Printing, Catherine Frid (Alumnae Theatre), Kevin White, Theatre Aurora, Roxanne Deans, Bud Warwick, and
Don Watt (designer of the Canadian flag and who offered to design a poster free of charge for this production but sadly passed away Dec. 23, 2009) and all those who have contributed to the development of this project but are not mentioned here.
Don Watt
Designer of the Canadian flag
(1936- 2009)
And thanks to:
Dan Aykroyd (who played Crawford Gordon II in the film - The Avro Arrow, and who offered to come out to MC this show.)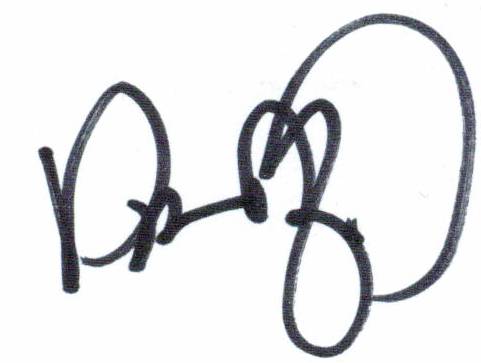 Generous Supporters:
Gold, Silver, & Titanium Circle: Bud Warwick
Triple Linoleum Square: the playwright's Master Card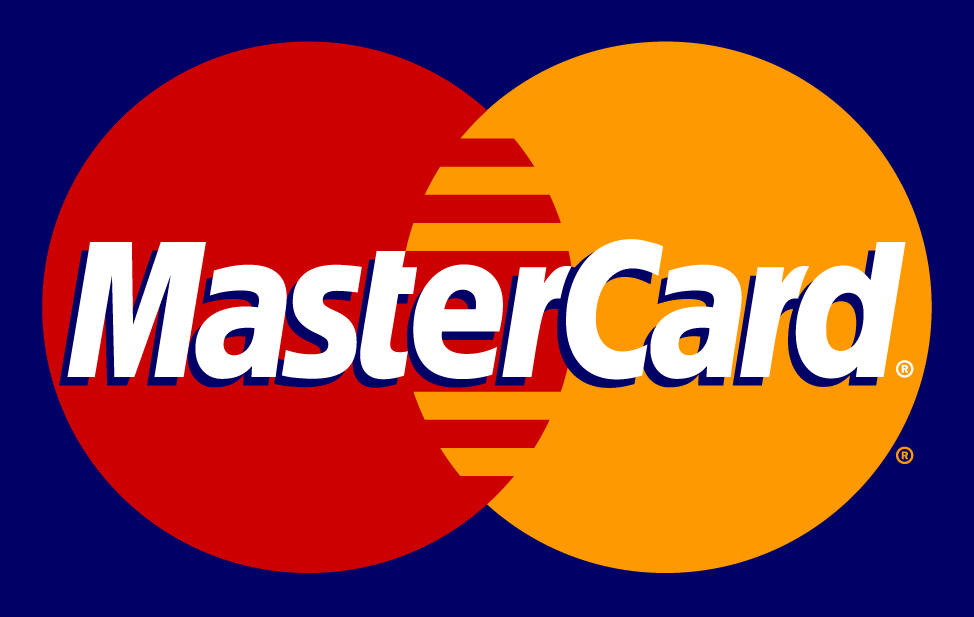 DIRECTOR, WRITER, CAST AND CREW:
ANNIE MacMILLAN Director
NY: Directed: "On Tour"(SSDC – Broadway Directors Union Contract), Richard Horner producer; "Apple Trees in Bloom" (based on John Gacy murders by Serge Sirois), Ubu Rep; several new plays for the Neighborhood Playhouse, producer Harold Baldridge and for The Women's Project, producer Bernice Lee, New York; "O'Neil Sea Plays": Villager award; "The 30th of February" at the Vandam Theatre and "A Killing in Clams"– both with Lothaire Bluteau. Associate Director with Richard Lupino on his fact-driven comedy "The Evening Shift".
In Toronto directed "Mimi's Story" by Marye Barton, with music by Dougal Bichen at PAL, and "Who is Lieserl?" by Flora Stohr-Danziger for Alumnae's New Ideas Festival, 2010.
Wrote: five plays including "City Streets after 9/11" for Pen and Brush NY ("Collage of our Town" and for "The Anniversary of 9/11") - and a one act comedy "Ze Adventures of M. Maurice and his Wedding Emporium" directed by Lewis Chambers, Bethel Agency, NY. (Anne is currently working on a full length version).
Acted in: leading roles directed by Douglas Seale, Norman Ayrton, Derek Goldby, Paul Elliot, etc. from Broadway to National Tours, LORT A's, The Kennedy Centre, The Guthrie, Mn. and her BBC-proclaimed Angela Hitler in the UK's Anniversary of WW2, etc. At the National Theatre, Washington, D.C.: acted with Eric Sykes and Jimmy Edwards with a surprise appearance by Queen Victoria in their infamous "Big Bad Mouse".
Trained in her native Scotland at the Glasgow Academy of Dramatic Arts, in Toronto at the Conservatory of Music (U of T), in New York at Circle in the Square with Nikos Psacharopoulos and at The Corner Loft Studio.
Annie is very pleased to be involved in this musical/comedy documentary based on a tragic Canadian event which brought many to tears. It is always good to laugh in the end! Thank you Doug Warwick for your talent and humour.
DOUG WARWICK Words and Music
Doug wrote, produced and directed the Toronto 2008 Fringe production, Sherlock Holmes & The First English Gentleman. The play was first produced in 2000 and was revived in Idaho, USA. His jazz arrangements have been played on CBC radio. He played saxophone with Garfield French opposite Rush, at the Montreal Forum in the 80's. His very short play, Murder By Intermission was a runner-up in the Atlantis Playmakers SAS Playfest (2002) USA. Keeping his day job, Doug currently works as a Certified General Accountant.
DAVID ABRAMOWITZ "Morris Lax"
Among David's early acting experiences was Herman Hierman's The Good Hope at Hart House Theatre. His Irish druggist role in Sean O'Casey's Hall of Healing led to his casting as Finian in Finian's Rainbow and subsequently in The Blue Goose. He directed The Tunnel of Love, Q Revue (in 1966) and Centennial Edition (in 1967), and produced Death is a Tree among several others. His other acting credits include the 1961 Dominion Drama Festival's winning production of Rashomon, The Tender Trap, The Bad Seed, Red Eye of Love, Dirty Work at the Crossroads, George Washington Slept Here, Peter Mann's revue Let Yourself Go and Gorky's Lower Depths.
DANIELLE CAPRETTI "Olga"
Danielle has performed in 10 countries. Her four years in Eastern Europe proved to be serendipitous background for Olga. In Toronto, she has been THEA-nominated for the following roles: Eve in The Wisdom of Eve (Scarborough Theatre Guild), Raymonde in Flea in Her Ear (Amicus), and Sibyl in Private Lives (Oakville Players). Roles abroad include: Einstein (Arsenic and Old Lace, UK), Lady MacBeth (MacBeth, US) and Mrs. Tilehouse (The Sea, Finland). Croatian television's A Little Bit of Culture featured her one-woman show, Domestic Manners of the Americans. She also teaches Disco Fever! at Dance District, and is the founder and choreographer of The Disco Diva and her Diva-ettes.
ANNA FIN: "CBC Broadcaster & More"
Anna Fin was born in Moscow, Russia, daughter of a dissident and a piano teacher. Her family immigrated to Toronto, Canada when she was 2 years old, and she thoroughly enjoyed taking part in every school play she did while growing up. In 1999 she moved to Stuttgart, Germany to study Anthroposophy for a year and a half and then moved to Berlin where she graduated from the three year acting program at the Europäisches Theater Institut. Based in Berlin she did various theatre, film and voice work all over Germany. After realizing that she would only get so far working in a foreign country, she to move back to North America where she continues to work as a performing artist on stage and in front of the camera.
STEPHEN FLETT "Dief"
Steve is an award-winning actor who has appeared in far too many plays spanning far too many years. He is thrilled to be flying in The Flying Avro Arrow which marks his 17th Toronto Fringe show. Further frequent Fringe forays include Hockey: The Musical, In Adequacy: The Rip Roaring Rock Opera, It Was Kit (Best of the Fringe), all five of Upstart Crow's Shakespeare Sports shows, and last year's Big Sexy. Writing credits include co-writing (and starring in) the Fringe hits Shakespeare's Comic Olympics and Pseudolus. Steve's many Toronto appearances include Lord Augustus in Lady Windermere's Fan (Alumnae), The Stage Manager in Our Town, Sir Robert Chiltern in An Ideal Husband (Village Playhouse), Teddy in Arsenic and Old Lace (Etobicoke), Lord Byron in The Warrior Bard (Toronto Irish), Paulet in Mary Stuart (East Side), and, most recently, David O. Selznick in Moonlight and Magnolias (Amicus). Steve recently won the ACT-CO Thea Award for Best Actor in a Leading Role in a Comedy for his portrayal of Dafydd Ap Llewellyn in A Chorus of Disapproval (Amicus). He has also received acting awards for Michael in Someone Who'll Watch Over Me (Toronto Irish), Hank in Affections of May (Amicus) and The Good Doctor (East Side), as well as award nominations for Victor/Poche in A Flea In Her Ear, The Superintendent in Dancock's Dance (Amicus), The Common Man in A Man For All Seasons (East Side), and Manus in Translations (Domino). Steve received his theatre training at Queen's University and the British American Acting Academy.
PETER JENSEN "Scottie"
Peter Jensen is thrilled to be playing Scottie in this hilarious account of a most unfortunate moment in Canadian aero-space history. He is a University of Toronto alumnus whose most recent work includes performances at The Thousand Islands Playhouse in Gananoque, and Solar Stage Children's Theatre in Toronto. In September, Peter will be appearing at the Lower Ossington Theatre in "The Shadow of a Boy", and can also be seen in "Pleased Meet You" playing on the Moviola channel. Many thanks to Annie and Doug for the opportunity to be part of such a wonderful cast!
LEEMAN KESSLER "Ike"
Recently seen at Alumnae Theatre's New Ideas Festival 2010 in Sex on the Beach. Leeman Kessler, Science Fiction Professional, is a Nigerian-born American living it up in Toronto with nothing but his rich, velvety voice and winning manner to recommend him. A member of Monkeyman Productions, he has been in several of DJ Sylvis' works: Wolf in the Fold, The Last Minutes in the Life of King Kong, The Final Flight of the Phoenix, and more! This will be Leeman's second year in the Fringe Festival after starring in Stephen Near's Out of Character last year. His most recent work is in Mr. Near's Monstrous Invisible wherein he portrays celebrated Horror writer HP Lovecraft at the Imperial Pub.
JEFF ORCHARD "Spock"
Educated on a diet of classical philosophy, Canadian drama, and re-runs of Star Trek, Jeff is honoured to be part of the The Flying Avro Arrow story. Recent theatrical activity includes: Performance. Willy in Fallen Angels, Bastien in Cyprienne, Ezra Chater in Arcadia, and Horace Vandergelder in Hello Dolly. Direction. Having Hope at Home (fully described for the vision impaired). Writing. All Thy Sons Command, The O Canada Project (ten minute play).
TOBY ORR "Bill Shatner"
Toby Orr has a BFA in theatre from Concordia University. He's performed with Shrimp Magnet Childrens Theatre and can be heard as the voice of Galuda on the animated series Powerstone. He's pleased to be joining this talented group for this production.
MERRYN RENSHAW "CBC broadcaster & more", choreography for "We've Got the Arrow" and "Diefenbaker's Back Again in the House"
Merryn is a graduate of the University of Windsor's BFA Acting program and has also trained at the Guildhall School of Music and Drama (London, UK). Most recently, she played Patient #3 in Sleeper at Alumnae Theatre's New Ideas Festival 2010 and appeared in Sweets and Treats at the Village Playhouse. Some favourite roles include: Marcy in Ravenscroft (Village Players), Jessica Logan in Jitters, Lady Chiltern in An Ideal Husband (both University Players), and Beatrice in Much Ado About Nothing (U of W). Merryn would like to thank her family and friends for their encouragement and support, with special thanks to her parents and Josh. This is Merryn's first Fringe Festival project, and she is so thrilled to be part of The Flying Avro Arrow cast knowing that she has a family connection to the Arrow. Her grandfather worked on the construction of the Arrow itself.
FRANK ROBINOW "Khrushchev"
Recently seen at Alumnae Theatre's New Ideas Festival 2010 Who is Lieserl? and Premier Khrushchev in The Flying Avro Arrow for New Ideas. New York credits include Jean Louis, a French thug in NBC-TV's Search for Tomorrow; Robert, a Russian KGB Agent, in ABC-TV's One Life To Live; Gottschalk's father in The Great Gottschalk with Ben Vereen (dir. Tom O'Horgan). Toronto, previously: several Hart House roles such as the Doctor in The Father, the Priest/Undertaker in A Scent Of Flowers. He has worked with directors Bob Gill, Bill Glasgow, and David Gardner. Played the Bachelor in a Russian production of The Marriage (Zhenitba).
ANDREA SCHUETT "CBC broadcaster & more"
Andrea is a Triple Threat performer and recently graduated the Randolph Academy for the Performing Arts, here in Toronto, this past December. Her most recent credits include: Gret/Kit in Caryl Churchill's Top Girls (Annex Theatre), Anita in West Side Story (Bravo Academy/Alumnae Theatre) and Sister Robert Anne in Nunsense: The Second Coming (Bathurst Street Theatre). Ready to make her Toronto Fringe Festival debut as part of The Flying Avro Arrow cast, Andrea would like to thank her family for their undoubted and everlasting support.
KATHLEEN (Kathy) ADACHI: Production / Head of Crew / Lights
Kathy has performed in the musicals, Oh What A Lovely War, Oklahoma! and Brigadoon. She studied theatre at York University where she earned a Bachelor of Arts. She has enjoyed singing in a number of choirs including Emmanuel Evangelical Choir, Glebe Presbyterian Choir, Rainbow Voices and presently sings in the SATB community choir, SingingOUT!. Administratively she has worked at Tarragon Theatre, OCAD and special projects with the ROM and AGO. Kathy has been a stagehand at the "Summer in the Park" program at Metropolitan United Church and ushered for a number of years at "Tafelmusik" concerts at Trinity-St.Paul's United Church. Kathy feels very fortunate and is pleased to be working with the talented and dynamic Fly Avro Arrow theatre group.
PATRICIA HAWK: Props, Front of House
AINSLEY KENDRICK: Stage Manager
KEVIN WHITE: Lighting Designer, Lights Operation
KRYSTAL TWISS: Assistant Stage Manager
A graduate of Fanshaw's Technical Theatre Production Program, Krystal was first involved in stage management in middle school. She later ran sound for a local theatre group. Her experience with the Toronto Fringe includes In Adequacy, Drag Queens Talk About Their Vaginas and Candida. She was assistant stage manager for a show at Fort York. Krystal looks forward to establishing a career in the theatre business.
CREW: LAURA EL-BAROUDI, ANTHONY CASTANEDA, GREG CORKUM, HILARY CUTLER, DANIEL GRANT, SAUMYA HEENETIGALA, BRIAN KIRBY, JIM KOBAYASHI, JAKOB LOCKHART, RYAN MILLIGAN, SARAH MILLIGAN, SHARON MILLIGAN, JULIE MOYNIE, SUSSAN PALMA, JOHN PESCE, ERIN SHAW, STEVEN SHINBIN, UDIYA SWAMY, CHARLOTTE WORRELL, FRANK....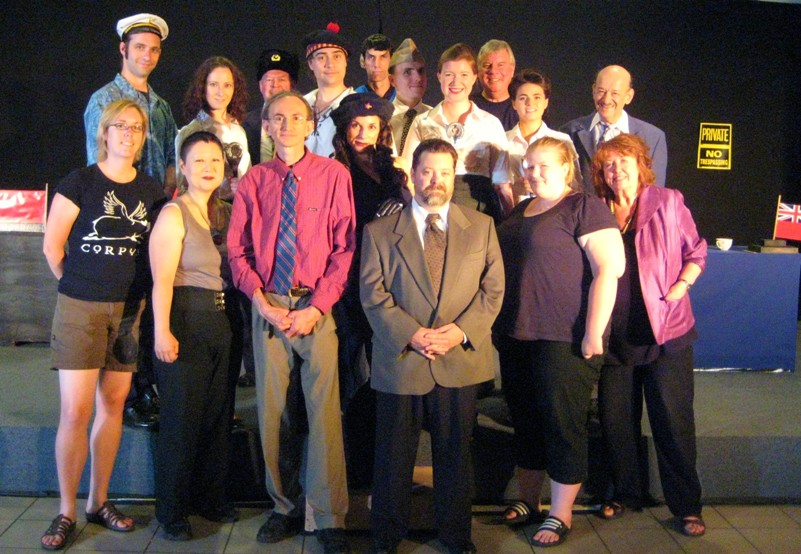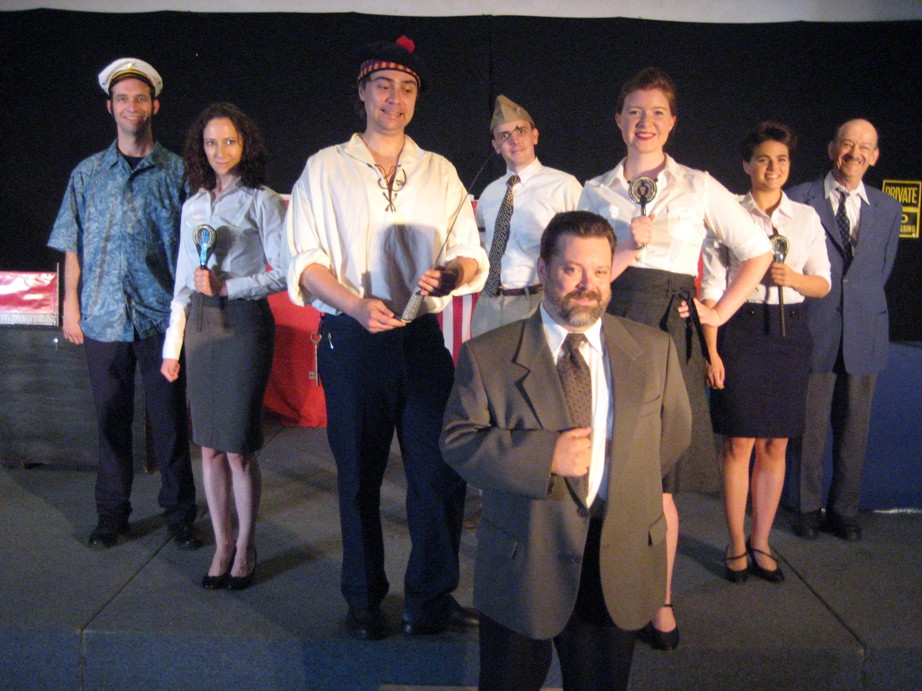 FRIENDS OF OUR SHOW
The Avro is a new bar in Leslieville. Open 7 days a week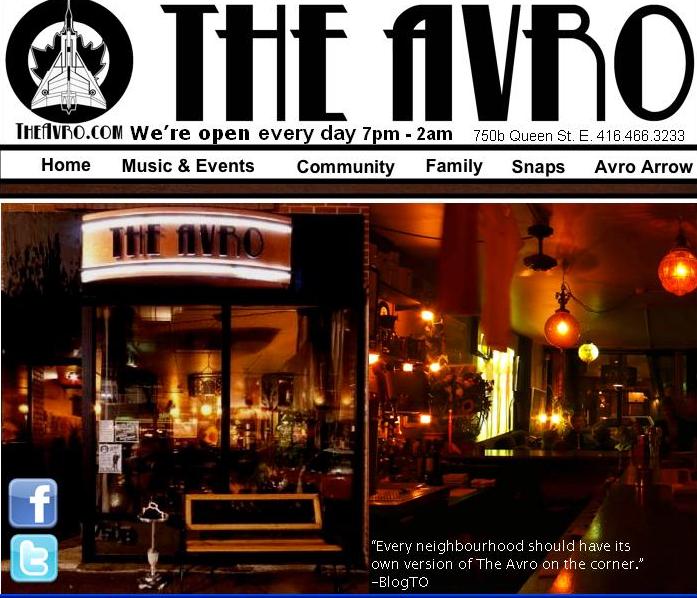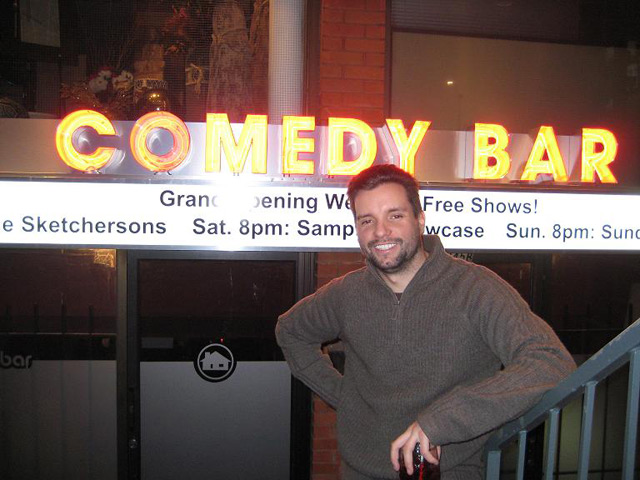 THE COMEDY BAR 945 BLOOR ST. WEST NEAR OSSINGTON STN.
Cleopatra Williams

Cleo rehearsed with us for a short while until fortune struck and she received a call from DanCap. Catch her in the DanCap production of "Jersey Boys" where she plays Mary Delgado. Bravo, Cleopatra!
Margaret Thompson

Margaret rehearsed with us also for a short while. She accepted a position with Amex's concerts at Molson Amphitheatre.

Above, Lou Wise and his beloved Cherokee. Lou worked at Avro and produced and narrated one of the few surviving Avro Arrow films, Supersonic Sentinel - a must see! Thanks to Lou for attending our show at the United Steel Workers Hall.
ACKNOWLEDGEMENTS
Jason Cordice (Web designer, Poster Designer)
LINKS
http://theavro.com/TheAvro/TheAvro.html
http://avromuseum.ca.dnnmax.com/
http://www.torontoaerospacemuseum.com/
http://www.kaap.purpleglen.com/
http://www.freewebs.com/arrowairplane/
www.thearrowwatch.cachelan.com